More About Furnished Studios for Rent in Qatar
A furnished studio for rent in Qatar is a popular choice of accommodation for single individuals or couples looking for a small place for rent that is furnished and ready to move into. A studio is the smallest size of a self-contained real estate dwelling, consisting of one combined living/sleeping space with a bathroom and a kitchen. The main living space may include the kitchen, or it can be separate too. Sometimes families on a strict budget also look for furnished studios in Qatar as they are often the cheapest apartment available to rent in Qatar.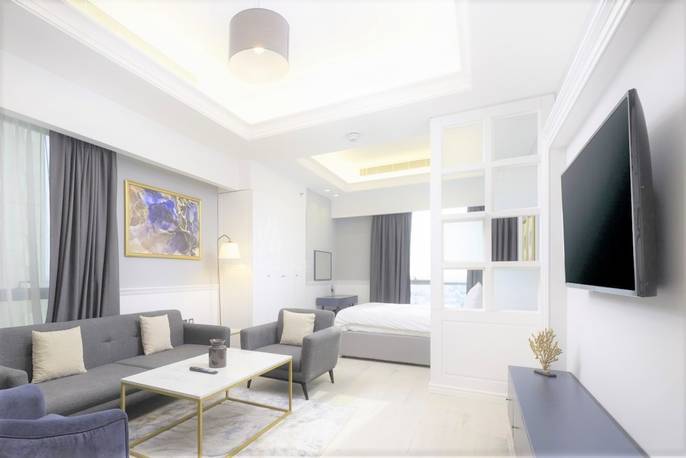 Where Can I Find a Fully Furnished Studio for Rent in Qatar?
Fully Furnished Studios in the Capital, Doha
The quickest and easiest way to find a fully furnished studio apartment for rent in Qatar is to search online. Many will begin their search in the capital. There are plenty of fully furnished studios in the capital, Doha, and you can find many short-term furnished studio flats for rent.
There are also serviced studio apartments for rent that are not only fully furnished but also have great benefits like weekly housekeeping or breakfast.
Fully Furnished Studios in Other Parts of Qatar
Popular locations for fully furnished studios for rent in Qatar, outside of the capital, are the studios for rent in Al Wakra, where you may consider a furnished studio for rent.
You may also look at furnished studio rooms for rent in Al Rayyan, which will cover popular areas such as Abu Hamour, Al Aziziya, and Gharrafa.
If you are looking for some of the most modern and newly built fully furnished studio apartments for rent in Qatar, you could also look for a studio in Lusail.
Fully Furnished Studio Room for Rent vs Fully Furnished Studio Apartment for Rent - Is There a Difference?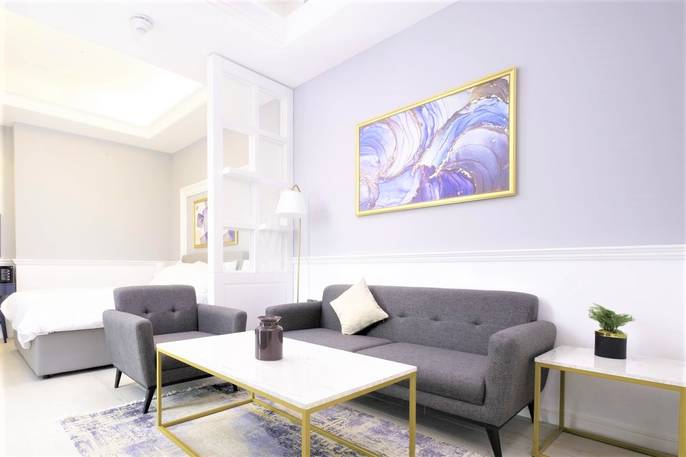 When looking for fully furnished studio apartments for rent in Qatar, don't be surprised if you see the listing state 'fully furnished studio room for rent in Qatar'. Studios in Qatar can be listed as any of the following: studio apartment, studio room, studio flat, family room, studio unit, studio type room, studio portion, and studio villa apartment.
These differences in terminology occur because, in Qatar, there are many people from different backgrounds in the real estate industry. Properties are advertised using language familiar to the agents and the customers they are trying to reach.
A studio apartment, studio flat, or studio unit would best describe a studio originally constructed as such in either a residential or tower block.
The terms studio room, studio villa partition, and similar terms are probably best used to describe a studio 'conversion', one found in a partitioned villa that has been converted into studios for rent.
How Much Does it Cost to Rent a Fully Furnished Studio in Qatar per Month?
If you are looking for a fully furnished studio for rent in Qatar, depending on its location and condition, it could cost up to 11,000 QAR per month. The price quoted is for a fully furnished luxurious studio apartment in The Pearl with an area of 60sqm. This can seem quite expensive, considering you can rent a fully furnished family villa for less than this in many parts of Qatar.
The search facility in Property Oryx is ideal as you can type in any of the terms used above into the keyword search, and you will find the listings containing those terms. Let Property Oryx help you find your ideal fully furnished studio for rent in Qatar today!