A Guide to renting an Apartment in The Pearl Qatar
Whether you are already here in Qatar or are thinking of moving to Qatar, there are many options when it comes to finding a home to rent. Many properties are available for rent in The Pearl, Doha, of which an estimated 90% are apartments for rent. For most Expats, apartment living is a popular choice, making The Pearl a perfect location to find one.
In The Pearl, there are plenty of apartments for rent at different price points. No matter if you are on a budget or want to splurge, there's an apartment for rent in The Pearl that will suit your needs.
Many locals and Expats looking for apartments for rent in Doha will look at those for rent in The Pearl. This is because there are many different types of apartments for rent in The Pearl Qatar. The many residential towers in the precincts of this famous location offer a great variety of rental apartments to choose from. There is sure to be an option that fits your budget and lifestyle perfectly; whether you are looking for a small studio, a comfortable apartment or the most luxurious penthouse, you will find them all in The Pearl Doha.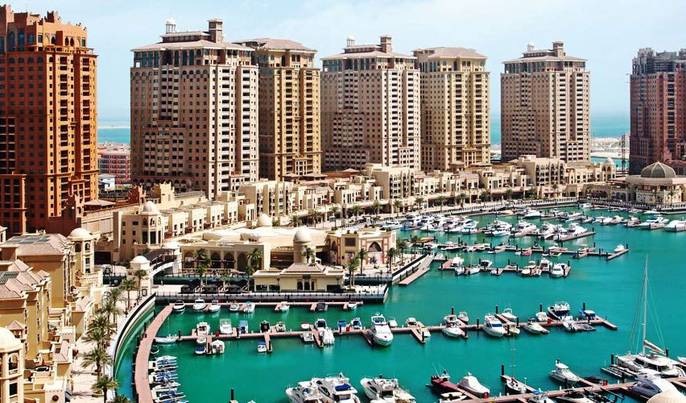 Why is The Pearl so popular for renting Apartments?
Qatar is home to many impressive construction projects, but none is more iconic or well-known than The Pearl Qatar. This luxurious development by the highly esteemed and globally respected United Development Company was the first location in Doha where foreigners could buy property, and it continues to be one of the most affluent areas in the capital city, Doha.
Situated on a man-made island, built on the site of one of Qatar's historical pearl diving sites, The Pearl Qatar covers an area of around four square kilometres and has been planned to accommodate an estimated 50,000 people.
The Pearl is a truly luxurious real estate development and offers waterfront residential units that are perfect for those who want a modern and trendy lifestyle. From the stunning seafront views of Viva Bahriya to the romantic Venetian canals of Qanat Quartier and the trendy Marina views of Porto Arabia to the buzzing social and entertainment hub of Medina Centrale and the rows of luxurious boutiques and many artisan eateries, The Pearl offers its residents a truly upscale living experience. The Pearl is a desirable location for those who appreciate Western-style amenities and modern living.
What Amenities do Rental Apartments in The Pearl have?
Renting an apartment in The Pearl is beneficial for residents as the residential buildings and towers of The Pearl offer a whole host of amenities. The amenities and internal layout of each may vary slightly, and the level of services offered to residents may differ depending on the owner or the management company servicing the building/tower and what they include in the rental contract.
If any amenities are a must for you, then make sure you use our user-friendly search and check all the amenities from the amenities menu that you would like. Let Property Oryx do all the hard work and show you the apartments that meet your needs and find your perfect home for rent.
The most common amenities that most people search for are a pool and a gym, but apartments for rent in The Pearl offer so much more.
Apartments for rent with Air-conditioning
One of the most essential amenities necessary to live in Qatar is air conditioning, without which it would be impossible to bear the long and humid summers in Qatar. Thankfully, The Pearl is a district which has the benefit of having district cooling throughout, as provided by Qatar Cool.
It is worth mentioning that The Pearl is currently home to the world's largest district cooling plant. However, Qatar plans to beat their world record and is currently constructing a district cooling plant in Lusail, which is almost 4 times larger than the plant in The Pearl. The benefits of having district cooling include not only air-conditioned buildings but also chilled water, which is also a must in Qatar throughout the summer.
Apartments for rent with a Gym
It is probably safe to say that most apartments for rent in The Pearl will have a gym for the residents to use. The gym areas in the residential towers found in The Pearl are usually quite comprehensive. They have most of the cardio machines, weight training, body conditioning and fitness equipment found in some of the best paid membership gyms. Some will have health and spa facilities like a sauna, steam room, and jacuzzi for men and women separately in the changing and showering areas if they are not located by the pool.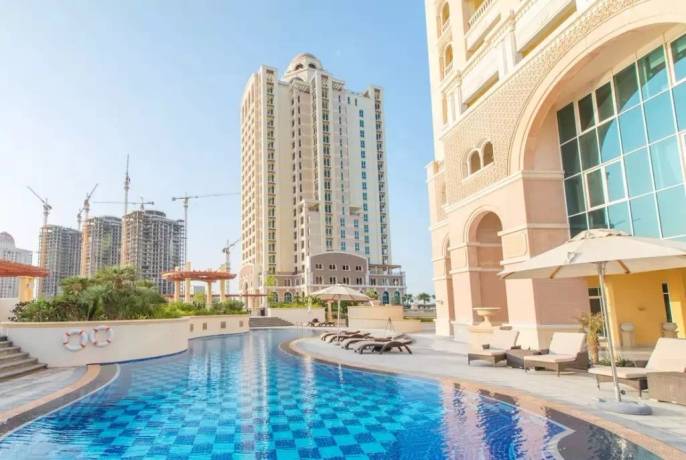 Apartments for rent with a Pool
Not all apartments in The Pearl will have the use of a pool, and residents of some buildings that do not have a pool sometimes have permission to use the pool in the neighbouring building or tower. Some of the residential towers in The Pearl will have an outdoor and indoor pool.
Alternatively, for those that like swimming in the sea, there is plenty of opportunity to do that in The Pearl with so much access to water. For example, it is pretty common to see residents of Viva Bahriya enjoying the sandy beach outside their towers and swimming in the crystal blue sea. Some will even use their paddleboards, inflatable boats and such items, making full use of the local facilities.
The Pearl Qatar Apartments for rent - How much do they cost?
Studio Apartments for rent in The Pearl
Typically for a studio apartment apartment for rent in The Pearl, monthly rental prices start from 6,000 QAR. You can expect to pay more for furnished studios, and prices will vary according to the building/tower and the apartment size.
1 Bedroom Apartments for rent in The Pearl
For a 1 bedroom apartment for rent in The Pearl monthly rental prices start from 8,000 QAR and can be as high as 16,000 QAR if it is a serviced apartment.
2 Bedroom Apartments for rent in The Pearl
For an unfurnished unit, prices for 2 bedroom apartments for rent in The Pearl start at 9,500 QAR per month.
3 Bedroom Apartments for rent in The Pearl
For 3 bedroom apartments for rent in The Pearl prices start from 14,000 QAR and can be as much as 35,000 QAR per month for a 3 bedroom penthouse apartment or 3 bedroom duplex apartment with a maid's room.
4 Bedroom apartments for rent in The Pearl
4 bedroom apartments for rent in The Pearl start from 22,000 QAR per month, and some of these are 4 bedroom penthouses and duplexes.
5 Bedroom Apartments for rent in The Pearl
5 bedroom apartments for rent in The Pearl start from 25,000 QAR per month. If you are looking for a 5 bedroom penthouse, you can find some affordable options. However, if you are looking for a truly unique property in The Pearl, you should expect to pay much more than this. We have seen a few examples of stunning, fully furnished penthouses with bespoke interior design and exquisite furniture specially commissioned for the apartment being offered for rent with a monthly rental price of 120,000 QAR.
Are Apartments for rent in The Pearl suitable for Families?
Apartments for rent in The Pearl are an excellent option for families, and the Pearl has a lot to offer its residents as a location. Aside from the prestige of living in one of Qatar's premium locations, there is plenty to keep all the family members busy.
United School International is the only school in The Pearl and is part of the Orbital Education group of Internationally Acclaimed Schools. Children can currently attend from nursery age up until year 9. The school teaches the well-respected British curriculum and has world-class facilities.
The lively Medina Centrale is a fantastic place to hang out and relax and provides residents with plenty to do. The Megapolis entertainment centre is Qatar's biggest indoor entertainment centre and is open 24 hours at the weekend. It is a favourite hangout for many, offering plenty of entertainment options for all ages attracting people from all parts of Qatar to let their hair down!
The vast array of shops, cafes, restaurants and a cinema add to the list of places to spend time with friends and family.
Furnished Apartments for rent in The Pearl, Doha
There are plenty of furnished apartments for rent in The Pearl. Many apartments are furnished by their landlords, so you will find varying interior furnishings and decor styles. The great thing is with the variety of apartments for rent, you will surely find one you like.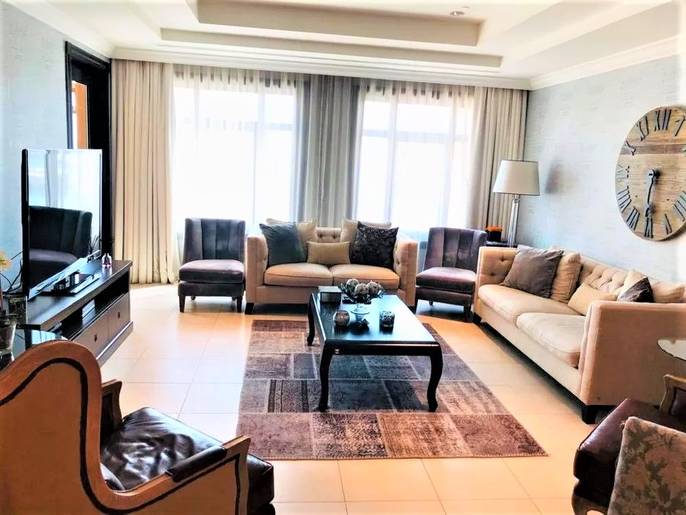 Luxury Apartments for rent in The Pearl Qatar
The Pearl and the term luxury are synonymous. It is not difficult to see why The Pearl Qatar is a location held in high regard not only in the region but across the globe and such a sought-after location for rentals.
The second you enter The Pearl, you can feel the luxury around you. Everything in The Pearl exudes luxury, from the construction of the many buildings and impressive towers down to minor details like the colour and style of the block paving of sidewalks. The clean and landscaped drives linking each part of The Pearl even have their distinct signage that is unique to The Pearl.
You can find luxury apartments for rent in The Pearl of all sizes, from studios to large penthouses and all in between.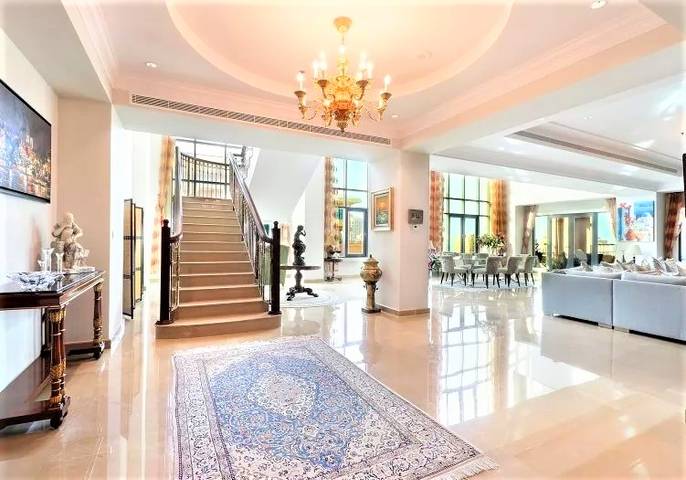 Can You find Cheap Apartments for rent in The Pearl?
This is a question we know many agents are asked in Qatar. The answer is not so simple. It is difficult to define the meaning of 'cheap' as it is subjective, and as they say in England, 'One man's home is another man's castle.'
We suggest that anyone looking to find an 'affordable' apartment in The Pearl uses the Property Oryx search facility to set their minimum and maximum monthly rental price in the filters and see what is available within their budget. We would also remind users that location, apartment size, furnishing and amenities are all factors that affect the price of an apartment and should be considered when searching for your ideal apartment for rent in The Pearl.
How to find the Best Apartments for rent in The Pearl Doha Qatar
The Pearl has 12 precincts, each with its own distinct architectural style. Some precincts are heavily populated with apartments for rent. These are Porto Arabia, Qanat Quartier, and Viva Bahriya. You will not find apartments in all the precincts of The Pearl, as some have been constructed only to have villas.
Property Oryx is the number One property listing portal in Qatar and has the largest number of property listings. We strive to support all real estate agencies. The listings on our site are varied and showcase a realistic array of the apartments available for rent in every location from the whole of the rental real estate market so that we can find the best apartments for our users.
Locations to Rent an Apartment in The Pearl
Porto Arabia apartments
Porto Arabia apartments for rent are all situated within the large residential towers arranged around a central island called Marsa Arabia Island, which is home to the luxurious St Regis Suites and Residences. Residents of the towers in Porto Arabia have direct access to the Marina and piers. There are a whole host of restaurants and cafes in Porto Arabia offering varied cuisine from around the globe; you can be sure to find a fantastic eatery within minutes of your apartment for rent in The Pearl.
Qanat Quartier apartments
Qanat Quartier apartments for rent are located mainly within low-rise buildings designed to resemble those of the romantic Italian city Venice. Set amongst canals with stylish bridges and wide pavements along which you will find exquisite boutiques, restaurants, and cafes. In this precinct, you will find apartments for rent in The Pearl of varying sizes.
Viva Bahriya apartments
Viva Bahriya apartments for rent are in large residential towers similar to those found in the neighbouring precinct of Porto Arabia. These towers are arranged around a central island, and all residents have direct beach access. The lively Medina Centrale precinct of The Pearl is within walking distance and offers residents a mix of entertainment, food, and retail outlets.
Apartments for rent in Medina Centrale
Located in the heart of The Pearl, the Medina Centrale precinct is a vibrant and lively area that is inspired by the ambience of the Mediterranean. With a mix of plazas, gardens, terraces and a piazza, it is the perfect place to enjoy some time out with friends or family. The precinct regularly comes alive with celebrations and events; on winter weekends, it becomes pedestrian-only, adding to its charm.
Apartments for rent in Abraj Quartier
Apartments for rent in Abraj Quartier can be found in the four large towers constructed by one of Qatar's most renowned luxury real estate developers Abraj Bay. You can find apartments in the four Abraj Bay Towers ranging from studios to 4 bedroom apartments situated on floors 4-38, with the lower floors accommodating the parking levels, lobby, health and spa facilities, and world-class restaurant.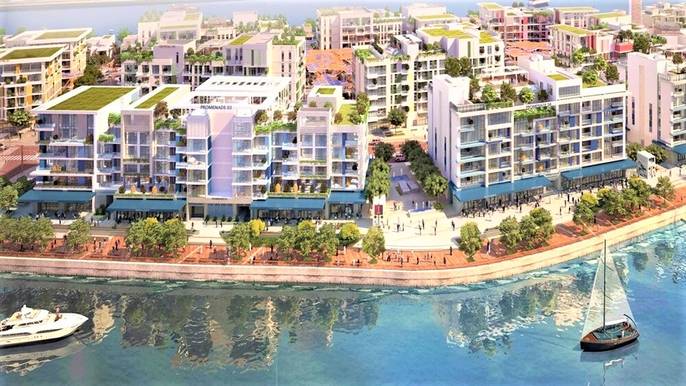 Apartments for rent in Gewan Island
Currently under development on Qatar's Gewan Island, an extension of The Pearl, is Crystal Residence which will be home to some of the most exclusive apartments in Qatar directly accessible via a bridge from The Pearl. Crystal Residence is being constructed to offer a variety of 1, 2 & 3 bedroom apartments and larger 4 bedroom duplexes with world-class facilities for residents.